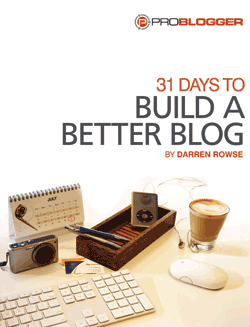 Don't order "31 days to build a better blog" by Darren Rowse. It is a waste of money!
Surprised! Are you?
Don't worry, I am not an anti-problogger or, a Hate-Darren-Rowse activist. In fact I respect Darren Rowse and his ProBlogger blog very much. Darren has been a source of inspiration for me and my blogs. I learnt blogging from Darren's blog and his tips. He is one of my mentors in addition to Yaro Starak.
If that is the case, then why is it that I said that you should not order "31 days to build a better blog"?
Just peep into your computer and count the number of PLR articles, ebooks and software that are resting somewhere in the corner of your hard-drive. Just how long has they been sitting in there? Don't remember! You had downloaded these with some objective but none of those have been fulfilled.
Ask yourself a question, why?
Inaction!!
95% of people dreaming of making money online and starting and internet marketing business, fail because of inaction. Either the expectation is so high that they just crumble under the pressure of "Zero results" or, they just don't want to work because for them Internet Marketing is a get rich quick scheme.
If you are going to buy the "31 days to build a better blog workbook" and then let it rest there in your computer's hard drive, then there is no point in buying it. This workbok is for people who are ready to take action.
I implemented the teaching of Darren Rowse in one of my niche blogs and saw my subscriber count increase by about 315% in just a month.
So, if your decision in 'INACTION', then don't even attempt to buy the workbook. Else the "31 days to build a better blog workbook" is just the thing for you.
At a price of about $19.99, the book is a steal of a deal. The book has 94 pages of content and includes a lot of new material which was not featured in the original challenge. Darren also has some kind of an offer with another excellent e-book. You can check it out at his blog.
My name is Dilip. I am a fan of the internet and am awed at the many opportunities that the world wide web provides. If used constructively , the internet can give you an opportunity to lead a life free of the 9-5 treadmill and will be able to give more time to your family members.
Read about
internet entrepreneurship
at my blog.
Latest posts by Dilip Kumar (see all)