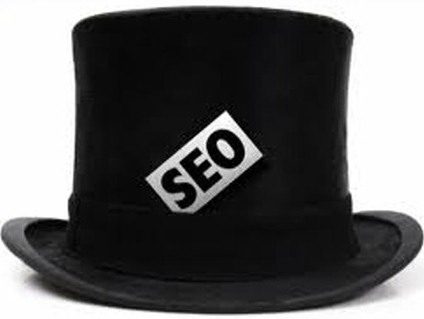 Because SEO revolves around making a search engine notice a site and rank it highly based on favorable factors, the quality of different optimization techniques depends on how companies like Google view them. This means that there is both a field of black hat SEO and one of white hat SEO; the former being frowned upon and the later consisting of "best practices" for favorable ranking.
While white hat SEO is a somewhat slow but excellent way to rank your site higher and gain search engine and human reader approval, black hat is the opposite; it entirely focuses on tricking search engines and their algorithms into giving your site a high ranking quickly and risking the possibility that they will catch you in the act and punish your online presence. This is what we need to discuss here, how black hat works, what its consequences are and why you should avoid it completely.
Some Key Black Hat Techniques
Most black hat SEO loosely imitates its white hat counterpart in some way and simply consists of a speeded up or disingenuous version of quality techniques. Almost all black hat tactics are geared towards convincing algorithms instead of human readers of a websites value.
Keyword Stuffing
In SEO, the keywords that web users search for are what a site owner typically uses to attract ranking and viewer attention. This is done by researching the most commonly searched for phrases and words in a particular niche with tools like Google's Keyword Tool, and placing them in website content in a strategic manner; this is the basic white hat approach.
The black hat technique of keyword stuffing depends on finding niche keywords or phrases and filling a website's content, Meta tags and page descriptions with them until their text becomes terribly unnatural to read for humans. The idea behind the technique is that the more often a search algorithm notes a keyword or phrase, the more likely it is to rank a website quickly. However, keyword stuffing also leads to really ugly content.
Link Farming and Link Buying
Links coming back to your website from other peoples pages are an important metric by which search engines decide whether or not your site is popular and worthy of receiving a higher search rank. Link building is the SEO tactic of generating enough interesting in your own content that people will share links to it on their own pages of related web content or through their social media pages. The process is slow and requires you to create great content within your niche, but it pays off with increased SERP (search engine ranking position) in the long run.
Black hatters try to simulate this often slow and time consuming practice by farming out links to dozens or hundreds of low quality websites with dubious relevance to their own pages' niche. Sites like low quality content mills, link pages, web forums and even porno web pages are commonly used to create hundreds of quick backlinks. Link buying is essentially the same thing but revolves around purchasing backlinks from websites that offer them.
Irrelevant Keywords
This black hat technique is similar to keyword stuffing but takes things to an even worse level by not only adding too many repetitive keywords and phrases into content, meta tags and site meta descriptions but also by throwing them in randomly in an effort to have as many relevant words on the site content as possible, even if they make no grammatical sense at all. Keyword stuffing makes text boring and unnatural, using irrelevant keywords makes content completely illegible.
The focus of both this and its cousin keyword stuffing completely exaggerates the white hat concept of quality content that naturally uses the right words because it's informative.
Link Spamming
Link spamming is another black hat link building technique that tries to imitate white hat link building. The difference between this technique and Link Farming/buying is that it outright forces links onto other websites. Link spammers either create bot programs or manually place repeating links back to their own websites on the comment threads or forum sections of other web pages. They create unwanted backlinks through spam.
Content Spinning and Scraping
Quality relevant content that is frequently being updated is key to successful white hat SEO. It means crafting large amounts of reliable and useful information that is strategically peppered with keywords in its text blocks and headlines while still sounding natural to human readers.
Content spinning/scraping, on the other hand, Is a black hat method of simulating keyword rich content quickly. It's an old and commonly used technique of generating reams of cheap, badly created but keyword rich site content for the search algorithms to index and rank highly.
Content scrapers and spinners basically troll the internet for large quantities of content that are relative to their niche and have it rewritten and garbled up by programs that randomize replace and shift words around. The key is to keep the content and content headlines full of keywords that get noticed despite the terrible quality of what's written.
Why You Should Avoid Black Hat SEO
Black hat optimization can create elevated search rank more quickly than white hat SEO but it is more complicated and much more stressful as a process. If you are planning on resorting to black hat optimization tactics on your own website, understand that you will need more technical and programming know-how to pull them off. Also understand that you'll have to constantly shift gears, learn new techniques and spend money on new domains in order to deal with your websites being de-listed by the search engines.
Black hat SEO is a short term and labor intensive system of techniques that will almost certainly get your website removed from search listings or at least badly de-ranked.
Furthermore, the art of black hat tactics is steadily getting more and more difficult as search engines improve their algorithms. On the other hand, white hat optimization is always approved of by companies like Google and will lead to worry free long term results.

About the Author:
Pat Walton is a revered freelance writer who has covered the technology industry for over two decades. When he isn't writing you can find Pat reviewing Internet marketing companies like Digital Third Coast in Chicago, Illinois.