So your blog traffic has dropped and it has dropped considerably. You searched on Google (Synonym for Search Engine) and found my blog post and here you are reading about the Google EMD update.
Let me first show you a snapshot of a tweet from Matt Cutts.
He tweeted this on the 28th of September and this update was released on 29th September. His comments on this update read that about "0.6% of the English-US queries will have a noticeable impact".
Now two things here –
Very few on the internet would have realized that "Upcoming" could also mean "the next day".
And 0.6% of English-US queries could mean 99% of the internet websites.
So the final story is that the Google EMD algorithm update went live on 29th and a lot of sites including yours and mine got impacted.
What is Google EMD Update?
EMD stands for "Exact Match Domains". If your domain name is the same as a searching keyword, it is called an EMD. For eg: a domain name kidneystonediet.com is an EMD. EMDs had a tendency of ranking well in search engines (read Google) because they had the primary keyword in their name. This was one of the aspects that a lot of webmasters exploited to get their websites ranked on the 1st page of Google and it had worked until now.
With the Google EMD update, all of this will change because now Google will stop giving that priority and importance to exact match domains, meaning now an exact match domain and a normal domain, both will have the same priority when it comes to a keyword that both the websites are targeting.
For eg: a domain name kidneystonediet.com and another domain healthyliving.com both will get the same preference, if both of them are targeting the same keyword "kidney stone diet".
So now it all boils down to quality content. That makes this update a desirable one for people like us who are focused on building quality websites.
But how is it impacting my blog – My blog is not an EMD?
I will not have a complete update to how this is impacting a blog like that of mine or, yours (if yours is also not an EMD) which is not an EMD. But we will have to wait for another week or, so until the Google dance is over, to see what is the net impact.
Meanwhile check this out – These are stats for my blog:
WordPress Stats -This is where I first noticed this impact. I first thought my blog was hacked, but later realized the actual story.

Google Analytics Stats – Cross verification at Google Analytics proved that there indeed was something happening to my search queries.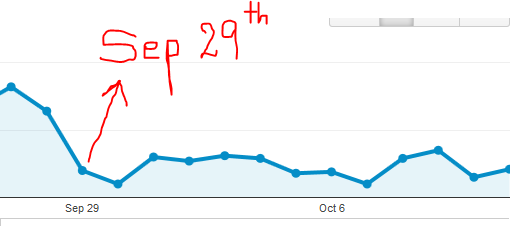 I hope that things change once everything stabilizes. Otherwise, for all us webmasters, the story will start all over again. After all, who dare challenge the Google God.